AUTISM ACCOMMODATIONS – WEEKLY WALL PLANNER
---
I just finished a rather big project and thought I would share it with you. I use a large handmade weekly wall planner to help with my Executive Dysfunction caused by my autism as well as my memory issues. Maybe it can give someone else an idea for helping themselves or someone they know.
WHAT MY PLANNER LOOKS LIKE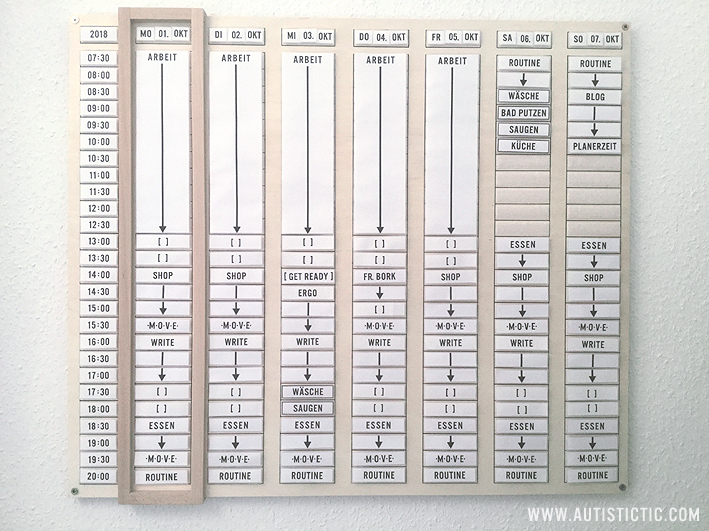 My planner is 74.5 cm wide, 63.5 cm high, and 6 mm thick. Each sign for tasks is 7 cm wide and 2 cm high.
Horizontally in the top row I have the current year, then the names, days, and months of the current weekdays. This is necessary because due to my memory issues I usually cannot remember the current date, often forget what day it is, and sometimes even forget the current year.
Vertically in the first column I have the time divided into half hour increments. This is necessary because I often have half hour appointments and tasks.
In the vertical columns I have all tasks and appointments for each weekday. This is necessary because I need to plan everything I want to do. Otherwise I will not remember to do it. And I will often get stuck trying to decide what to do.
WOODEN SLIDING FRAME TO MARK THE CURRENT DAY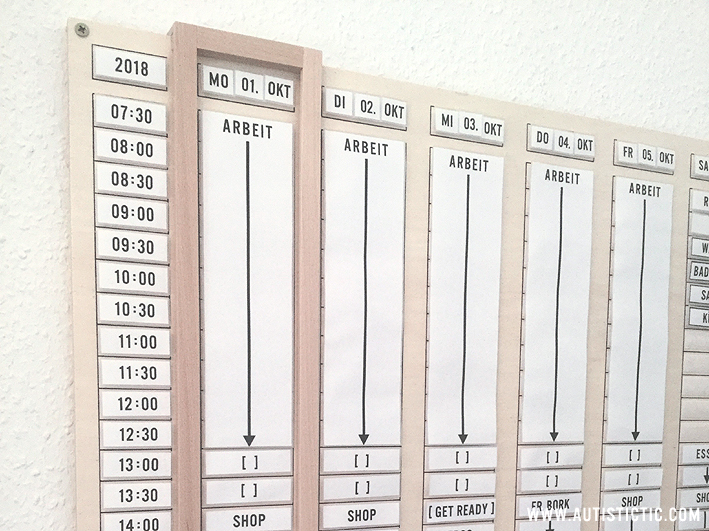 The sliding frame allows me to find my appointments at a glance. This way I can check them from anywhere in the room without having to walk over to the planner.
VELCRO ON EVERY FIELD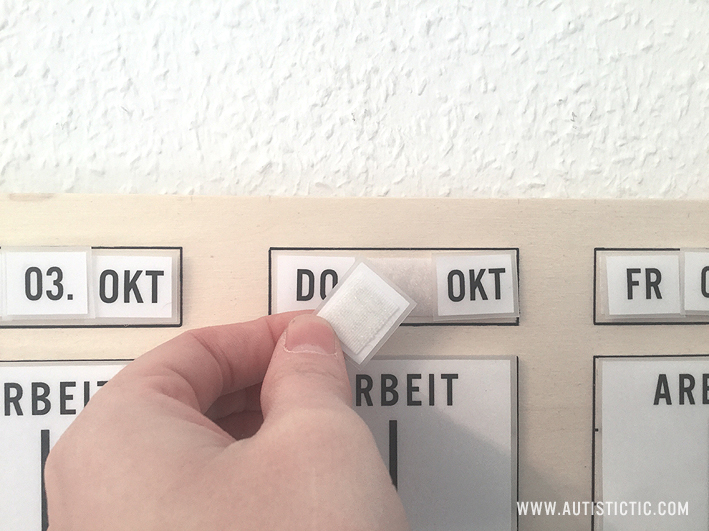 Velcro on every field means every element can be exchanged. This way I can adjust things without having to create an entirely new planner. For example I can change the hours I plan in case my schedule changes.
I update the planner every Sunday. For me that is the end of the week and also the time I usually know all my appointments for the new week. It's also a day I definitely don't work and have generally set as a rest day so I have the energy and time. Or course short notice changes do happen (sigh) in which case I update as needed.
A RING PLANNER TO ORGANIZE THE SIGNS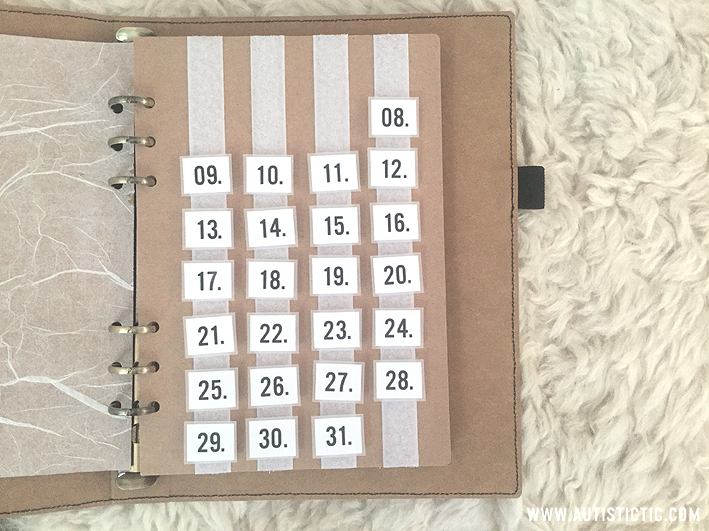 I still had this A5 sized ring planner I made and decided to use it to organize the signs for my planner. This way I can easily flip though and pick the ones I need. I had a box before but prefer this way because it takes away a lot less space.
HOW MY PLANNER CONNECTS TO MY AUTISM
I have huge problems with Executive Dysfunction, memory, decision making, as well as with starting, stopping, and switching tasks.
This means that everything I want to do needs to be included in my planner: work at my sheltered workshop, break times, time to get ready to leave the house, times for physical activity, meals, appointments, my daily routines, household chores, and any tasks I want to complete.
I do need to plan the actual time assigned for each task to give myself a chance to manage my autistic hyper focus. Without assigned times and setting alarms for them I will not remember to stop, switch tasks, or take breaks.
Setting times also helps with starting, stopping, and switching tasks in general because I don't have to make any decisions. I just follow the plan.
LINES AND ARROWS FOR SCHEDULED DURATION – BRACKETS FOR BREAKS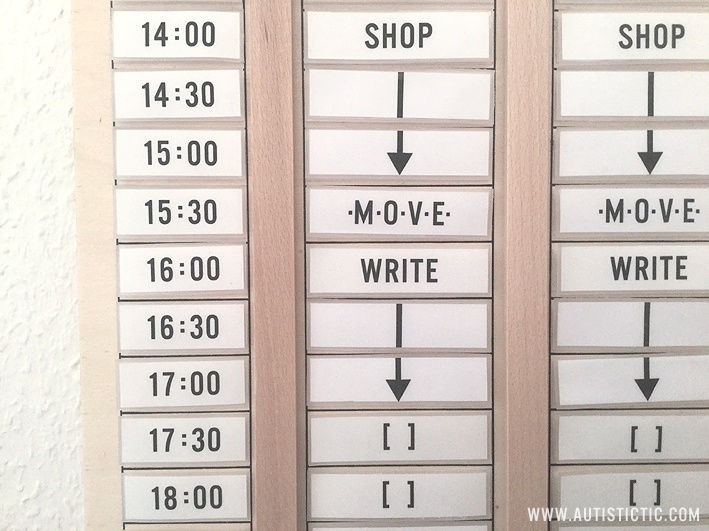 Generally there are things that I need to do and things that I want to do.
Need to do things are not flexible – like my getting up and going to sleep times, my morning and evening routine times, my break after work, any appointments, and my meal times.
Want to do things are theoretically flexible so I can chose not to do them or do something else instead – like my writing, and working on my shop. This often becomes necessary due to my varying physical wellbeing and energy. I often have to rest instead of doing something I had planned. I do this with want to do tasks, not need to do tasks if possible.
You might have noticed that I tried to keep certain things at the same time each day. This is my attempt to build a set routine around tasks that vary in day and time. Like most autistic people I absolutely need routines to stay healthy.
I would like to plan a complete daily routine and stick to it because I know from experience that I thrive when I am able to do this. However, while working at my sheltered workshop this is not possible for me. First my day is automatically different Monday through Friday when I work compared to Saturday and Sunday when I don't work. Working also takes up all my energy so that I usually end up doing nothing but work and need to do appointments during the week. Then I do my household chores at the weekend and that is it.
I still plan other things during the week but usually end up unable to do them (especially chores, writing, and working on my shop).
Break times are vital for me to try and prevent autistic burnout. I mark these with a [ ] sign on my planner. I have an hour every day after work to lay down, take a nap, watch TV, rest in any way I feel necessary. This hour absolutely does not get messed with ever because the consequences are burnout and breakdown.
Usually I end up needing way more though. I am very hesitant to pre-set this in my planner as I am very ambitious and would like to do other things during the day than rest. I always want to do more than I can.
Physical activity is also vital for my health. Everything I do for relaxation (writing, crafting, reading) involves sitting still so it's important to schedule daily physical activity.
The one thing I have not been able to remedy is how full and chaotic it still looks. It is however a lot better than before. My previous planner did not have spaces between the weekday columns which created one large chaotic grid. It also didn't have a sliding frame to mark the current day. And it only had the weekdays stamped onto the board, not exchangeable days and dates. Maybe one day I can figure out an even better way.
CREATING THE PLANNER
Now for anyone who might be interested in how exactly this monstrosity came into existence I decided to write it all down. This should also work as an instruction if you want to make your own. If you have any questions, I'll be happy to help!
Here is what I used to create the planner:
FOR THE BOARD
– 1 wooden board 74 cm wide, 63.5 cm high, 6 mm thick
– 3 m of 1.5 cm wooden bars
– clear varnish
– 15 m of loop self-adhesive velcro
– waterproof marker
– pencil
– ruler
FOR THE SIGNS
– a computer and printer
– a laminator and laminating foils
– a cutting mat, scalpel, and folding tool
– 10 m of hook self-adhesive velcro
TO HANG THE PLANNER UP
– 4 wall plugs
– 4 screws
– a drill
– a screw driver
– a level
– a vaccuum to clean up the dust
STEP BY STEP INSTRUCTIONS
1. I drew out the design and determined the measurements.
2. I got a wooden board cut at the hardware store matching those measurements.
3. I sealed the board twice on both sides (to prevent warping) with clear matte varnish.
4. I marked guides for the grid in pencil then drew on the grid with a waterproof marker.
5. I cut all the loop pieces from the velcro to attach to the board and taped it on.
6. I typed, printed, and then cut out all the signs I wanted.
7. I laminated all the signs and cut them again leaving a 1 mm border all around.
8. I cut all the hook velcro to attach to the signs and taped it on.
9. I built the sliding frame and put it onto the board.
10. I built 4 small wooden pieces to put between board and wall to create space for the sliding frame.
I hope I didn't forget anything. And now all that's left is testing this new and improved version out for a couple of weeks to see how it works for me. Let's hope well because I don't feel like making another one soon!
---
1 REPLY
CATEGORIES
SUPPORT AUTISTICTIC