TANTRUM OR MELTDOWN? [GRAPHIC RESOURCE]
HIER KLICKEN FÜR DIE DEUTSCHE VERSION
Diese Resource ist Teil von "AUTISTICTICS AUTISMUS 1X1 – 1 SEITE, 1 AUTISMUS THEMA".
[Das Bild unten anklicken, um zur Bilddatei zu gelangen. Nutzungsbedingungen am Ende dieses Posts.]
NUTZUNGSBEDINGUNGEN
Du darfst die "WUTANFALL ODER MELTDOWN" Grafik online für den persönliche, privaten Gebrauch reposten, solange du sie mir im selben Beitrag zuschreibst, in dem du das Bild teilst. Du diese Grafik nicht verändern, sie ohne Zuschreibung teilen, oder sie als deine eigene ausgeben.
Um mir die Grafik zuzuschreiben kannst du…
…direkt diesem speziellen Post verlinken: Kopiere den Link aus der Suchleiste
…direkt die originale Bilddatei verlinken: Klicke auf das Bild, kopiere den Link aus der Suchleiste
…meinen Blog verlinken: WWW.AUTISTICTIC.COM
…meinen Twitter Account verlinken: WWW.TWITTER.COM/AUTISTICTIC
Du darfst diese Grafik nicht in beruflicher, oder kommerzieller Funktion oder für berufliche oder kommerzielle Zwecke online oder offline verwenden oder wiederveröffentlichen. Möchtest du dies tun, kontaktiere mich bitte, damit wir eine individuelle Lizenz vereinbaren können. Druckfähige Versionen in A4 und Letter Größe mit 300 DPI Auflösung stehen zur Verfügung.
This resource is part of "AUTISTICTICS AUTISM 101 – 1 PAGE, 1 AUTISM TOPIC"
[Clicking the below image takes you to the image file. Terms of use at the end of this post.]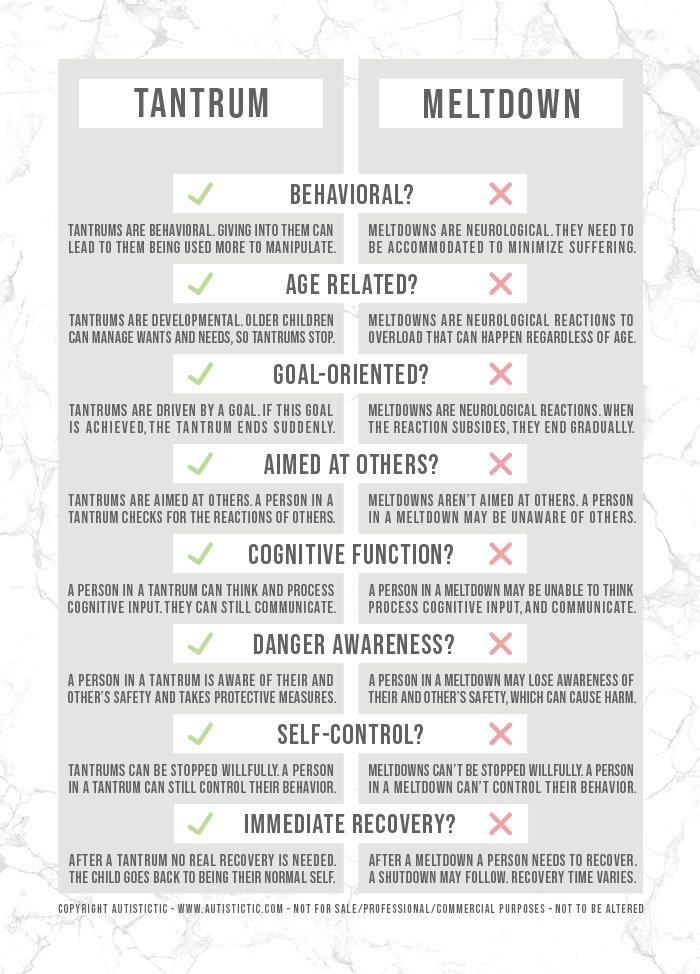 TERMS OF USE
YOU MAY repost the "TANTRUM OR MELTDOWN?" graphic online for personal, private use as long as you credit me in the same post as you share the image. You may not alter the image, share it without credit, or claim it as your own.
To credit me, you must do at least one of the following:
– link directly to this specific post: Copy the link in the search bar
– link directly to the original image file: Click the image, copy the link in the search bar
– link to my blog: WWW.AUTISTICTIC.COM
– link to my twitter: WWW.TWITTER.COM/AUTISTICTIC
YOU MAY NOT use or republish this graphic online or offline in any professional, or commercial capacity or for any professional or commercial purposes. If you want to do so, please contact me so we can work out an individual license. Printable versions in A4 and Letter size at 300 dpi are available.
---
CATEGORIES
SUPPORT AUTISTICTIC