REVIEW EAR DEFENDERS – 3M PELTOR X5A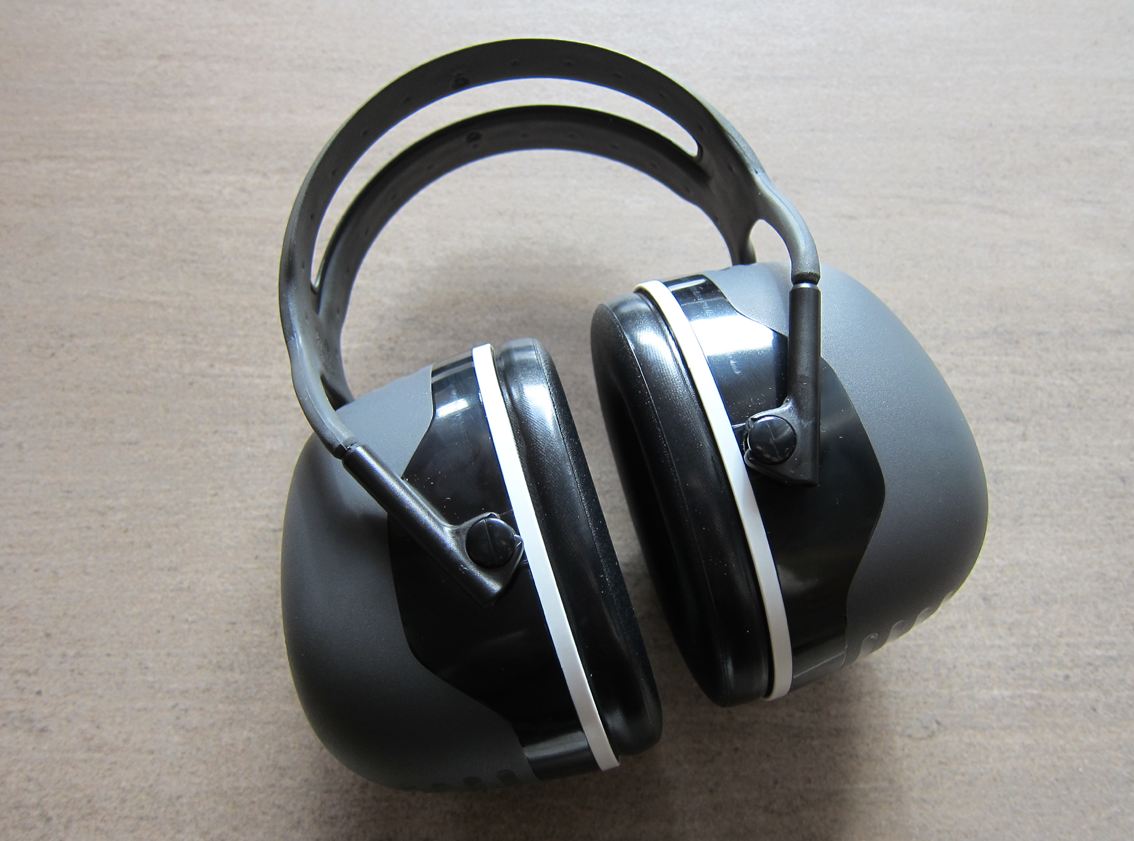 HIER KLICKEN FÜR DIE DEUTSCHE VERSION
BEWERTUNG KAPSELGEHÖRSCHUTZ – 3M PELTOR X5A
PELTOR X5A KAPSELGEHÖRSCHUTZ – DATEN
Laut der Verpackung, die ich erhalten habe.
MODELLNAME: 3M PELTOR X5A
PREIS: 30 EUR
GERÄUSCHMINDERUNG: 37 dB (Hoch 37 dB, Mittel 35 dB, Tief 27 dB)
GEWICHT: 352 g
FARBEN: grau, schwarz, weiß
MATERIAL: Kein natürliches Latex, nichtleitend
HYGIENE: Ohrpolster und Schaumstoff sind austauschbar (Hygiene Kit HYX5)
ANDERES: Erhältlich mit Nackenbügel statt Kopfband(X5B)
WAS MIR GEFÄLLT
Der Preis ist fair.
Sie blocken Geräusche sehr gut. Ich habe vorher einige dünnere Modelle getestet und der Unterschied ist sofort merkbar.
Die Farben sind neutral, hauptsächlich matt, nichts grelles, was gut ist für meine Hypersensibilität gegenüber Farben.
Sie sind leicht sauber zu halten, da alles außer der innenliegende Schaumstoff Plastik ist. Einfach mit Alkohol abreiben.
Die Längeneinstellung ist optisch sehr schön mit dem Kopfband verbunden. Alles sieht aus wie ein Teil.
Die Oberfläche des Großteils des Plastiks ist sehr angenehm. Es handelt sich um ein gummiartiges, weiches Plastik.
Das Kopfband ist zweigeteilt, um es leichter zu machen und mehr Luftfluss zu erlauben. Das hat meinen Kopf angenehm kühl gehalten, kein Schwitzen unter dem Kopfband.
WAS MIR NICHT GEFÄLLT
Sie sind so dick. So dick. Ich konnte mich von einem ästhetischen Standpunkt aus einfach nicht mit ihnen anfreunden. Aber auch über die Ästhetik hinaus sorgt die Dicke für Probleme. Ich stimme viel mit meinen Händen, berühre meinen Kopf, mein Gesicht, ich bewege mich viel und trage normalerweise eine Mütze. Diese dicken Schalen sind für mich dauernd im Weg.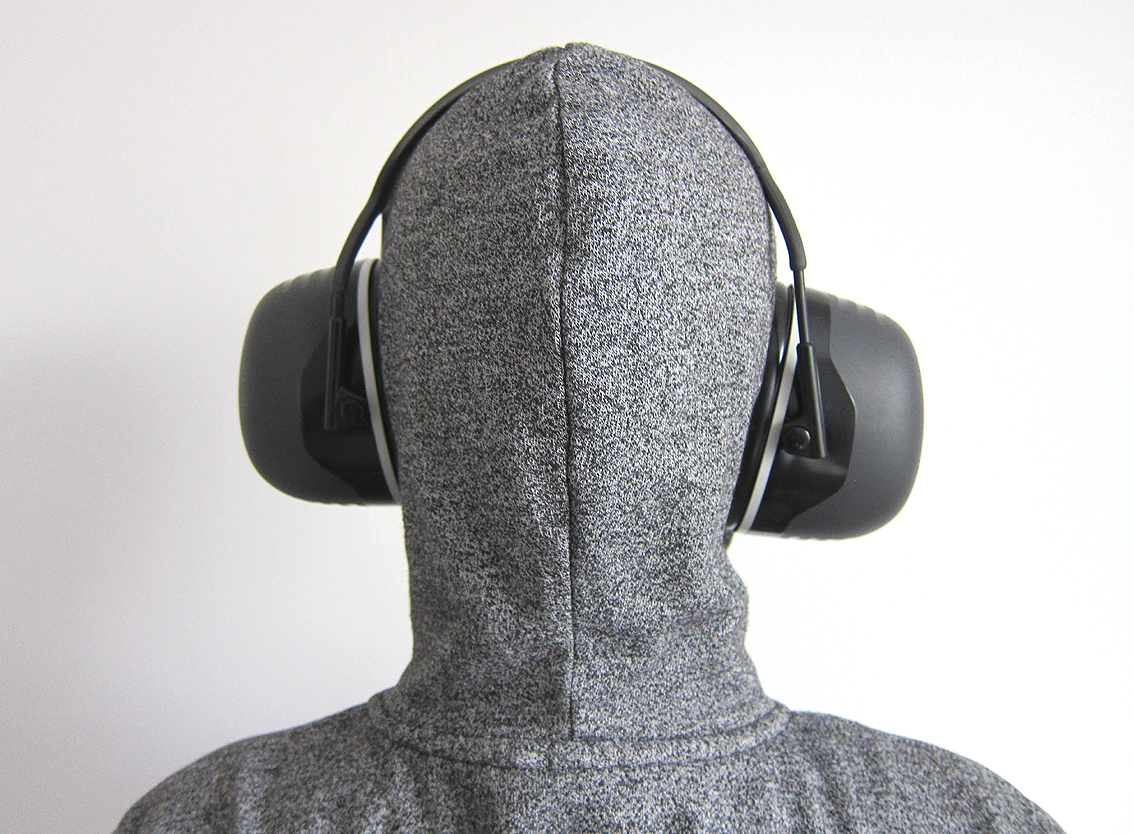 Sie sind schwer. Ich bin sehr sensibel, was meinen Kopf und Nacken angeht. Ich leide oft unter Kopfschmerzen, Migräne, und Schwindel. Das Gewicht dieses Kapselgehörschutzes ist für mich nicht mehr machbar. Das zusätzliche Gewicht an den Seiten meines Kopfes sorgt für ein merkwürdiges wackeliges Gefühl.
Die Aussparungen in den Ohrpolstern sind für meine Ohren zu klein – und ich habe kleine Ohren. Ich muss meine Ohren in die Löcher manövrieren und selbst dann werden sie noch leicht zusammen gedrückt. Die Größe und Form der Schalen drückt außerdem unangenehm genau hinter meinen Schläfen, was bereits nach wenigen Minuten einen irritierenden leichten Schwindel verursacht hat.
Das Material, mit dem die Ohrpolster bezogen sind, fühlt sich nach geringer Qualität an.
Ich trage eine Brille und aufgrund meiner Hypersensibilität gegenüber Licht oft eine Sonnenüberbrille darüber, meist auch eine Mütze. Dieser Kapselgehörschutz drückt vom ersten Moment des Tragens unangenehm auf meine Brillenbügel. Generell ist das ein Problem mit allen Kapselgehörschützern, die ich bisher getestet habe – allerdings nicht immer von ersten Moment an. Ich kann andere Modelle für einige Stunden tragen, ehe es zu diesem Problem kommt.
FAZIT
Der Peltor X5A ist nichts für mich. Tragekomfort über lange Zeit ist für mich extrem wichtig. Ich muss meinen Gehörschutz viel tragen – zu Hause, wenn ich laute Dinge tue, auf der Arbeit so gut wie immer, und oft auch wenn ich so raus gehe. Der X5A ist da klar durchgefallen, aufgrund der verschiedenen Probleme, die er direkt von Anfang an verursacht hat. Meine Ohren passen einfach nicht in die Aussparungen und die Größe und Form der Schalen verursacht schon nach wenigen Minuten Beschwerden und Schwindel.
Falls die Geräuschreduktion das Einzige ist, was wichtig ist, empfehle ich diesen Gehörschutz jedoch. Er war in diesem Bereich sehr gut. Die Ohren anderer Menschen mögen durchaus in die Aussparungen passen und nicht jeder muss die gleichen Tragebeschwerden haben, wie ich.
PELTOR X5A EAR DEFENDERS – SPECIFICATIONS
As per the item packaging I received.
MODEL NAME: 3M PELTOR X5A
PRICE: 30 EUR (34 $)
NOISE REDUCTION: 37 dB (Highs 37 dB, Mids 35 dB, Lows 27 dB)
WEIGHT: 352 g (12.42 oz)
COLORS: grey, black, off-white
MATERIAL: No natural latex, non-conductive
HYGIENE: Ear cushions and foam liners are replaceable (Hygiene Kit HYX5)
OTHER: These are available with neck wire instead of a headband (X5B)
WHAT I LIKE
The price feels fair.
They are very good at blocking noise. I have tested a couple of different thinner models before and the difference is immediately noticeable.
Colors are neutral, mostly matte, nothing bright, which is good for my color hypersensitivity.
They are easy to keep clean as everything besides the foam inside is plastic. Just wipe them with alcohol.
The length adjuster is visually very nicely connected to the headband. It all looks like one coherent part.
The texture of most of the plastic is really nice. It's a rubbery, smooth kind of plastic.
The headband has a hole in the middle to make it lighter and allow for more airflow. That kept my head nice and cool, no sweating underneath.
WHAT I DON'T LIKE
They are so thick. So thick. I couldn't get comfortable with them from an aesthetics point of view. But beyond aesthetics the thickness causes issues for me. I have stimmy hands, I touch my head and face a lot, I move a lot, I usually wear a hat. These thick shells really get in the way for me.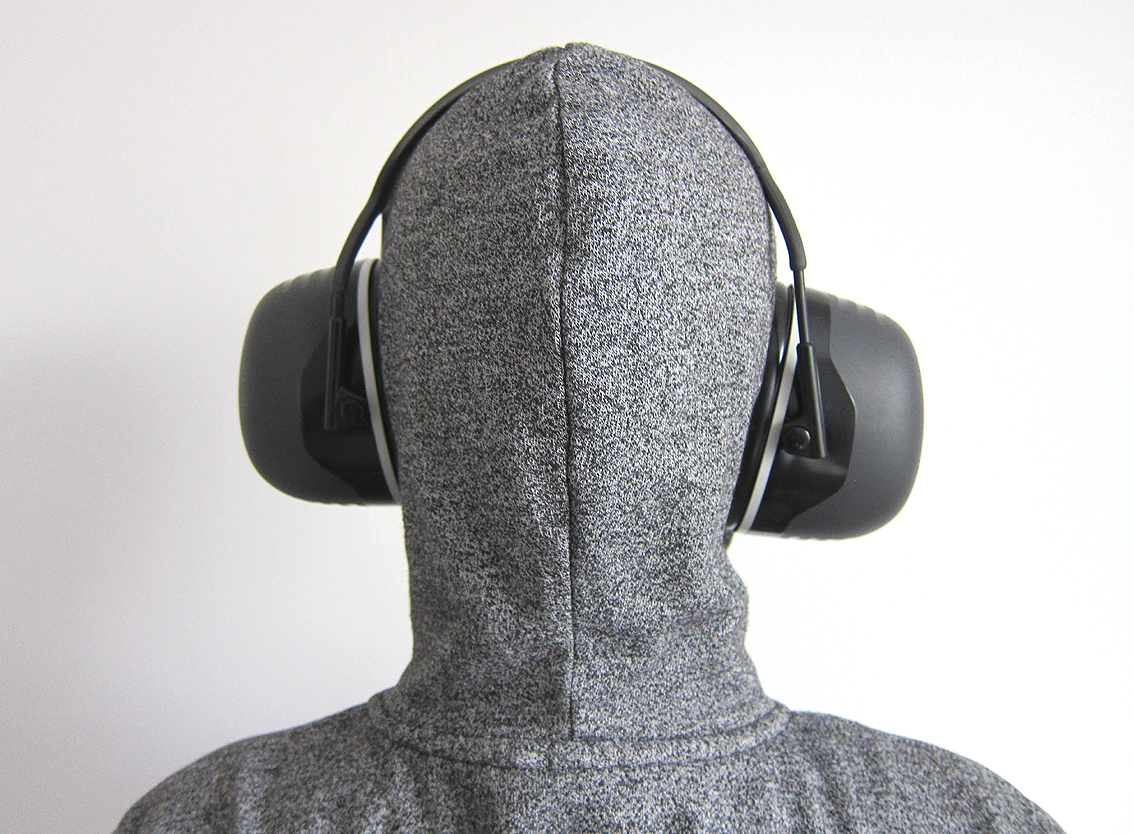 They are heavy. I am very sensitive regarding my head and neck. I get a lot of headaches, migraines, and dizziness. The weight of these ear defenders doesn't feel doable for me. And they add so much weight to the sides of my head which makes me feel really odd and wobbly.
The space where my ears go is too small – and I have small ears. I have to angle my ears into the holes and the cushions still squish them. The size and shape of the shells also puts uncomfortable pressure just behind my temples which caused an irritating light dizziness after just a couple of minutes of wearing them.
The ear cushion covering material feels like low quality.
I wear glasses, and because of my light hypersensitivity often sunglasses over them, and usually a hat. These ear defenders caused uncomfortable pressure around where my glasses sit right from the moment I put them on. This is a problem with all ear defenders I tested so far – however not always right away. I can wear other models for a couple of hours before this becomes an issue.
CONCLUSION
The Peltor X5A wasn't for me. Comfort over long periods of time is incredibly important to me. I have to wear my ear defenders a lot – at home when I do loud things, at work pretty much all the time, and often in public when out and about. The X5A didn't cut it because of the several discomforts they caused just minutes after putting them on. My ears just don't fit the holes and the shape and size of the shells caused discomfort and dizziness in a matter of minutes.
If noise reduction is all you care about I do recommend these though. They were really good in this regard. Other peoples ears might very well fit into them and everyones comfort is different after all.
---
CATEGORIES
SUPPORT AUTISTICTIC