ALEXITHYMIA – WHEN YOU DON'T KNOW WHAT YOU FEEL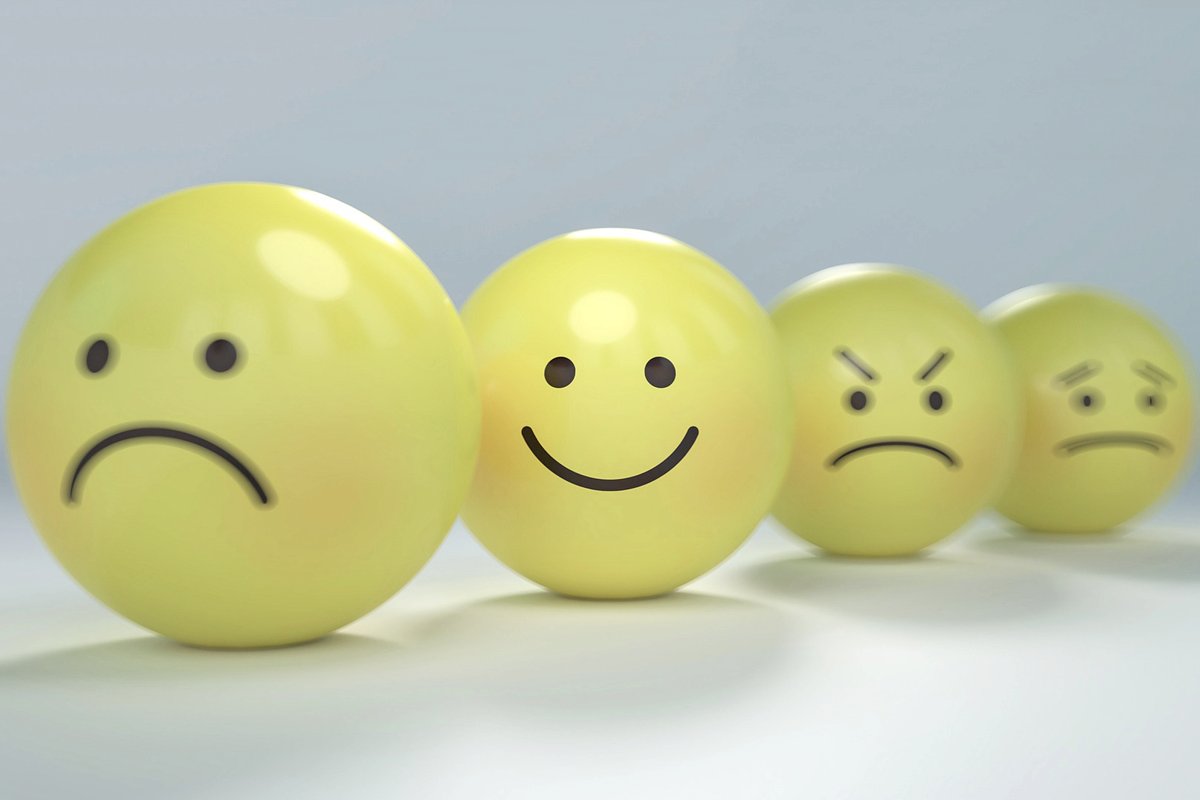 HIER KLICKEN FÜR DIE DEUTSCHE VERSION
WAS ALEXITHYMIE IST
"Wie fühlen Sie sich?"
Hast du keine Alexithymie, würdest du wahrscheinlich mit einem Adjektiv antworten, das deine aktuellen Gefühle beschreibt. Schuldig. Sentimental. Besorgt. Hilflos. Eifrig. Fürsorglich. Ratlos. Es gibt so viele. Aber irgendwie wüsstest du, welches das Richtige wäre. Weil du wüsstest, was du gerade fühlt.
Hast du Alexithymie, würdest du stattdessen wahrscheinlich mit einer Beschreibung deines körperlichen Zustandes antworten. Mir ist übel. Mein Herz schlägt so schnell. Ich schwitze. Oder du hättest Schwierigkeiten, überhaupt zu antworten, weil du wüsstest, dass ein Gefühlswort erwartet wird, aber nicht wüsstest, welches du benutzen sollst. Weil du nicht wüsstest, was du gerade fühlst.
Das ist Alexithymie.
Der Begriff kommt vom Griechischen "a", das "nicht" bedeutet, "lexis", das "Wörter" bedeutet, und "thymos", das "Herz" oder "Emotionen" bedeutet und bedeutet somit wörtlich "Keine Worte für Emotionen".
Menschen mit Alexithymie haben Schwierigkeiten damit, ihre Emotionen zu identifizieren und zu beschreiben. Sie haben oft auch Schwierigkeiten damit, die Emotionen anderer Menschen zu identifizieren, was zu Problemen mit Empathie führen kann.
Es ist wichtig anzumerken, dass obwohl ich selbst Autist und Alexithymiker bin und Alexithymie unter Autisten häufig vorkommt, beide Konditionen nicht notwendigerweise gleichzeitig auftreten müssen. Nicht alle Autisten haben Alexithymie. Nicht alle Alexithymiker sind Autisten.
Weiterhin ist es wichtig anzumerken, dass Alexithymie sowohl temporär (z.B. durch PTBS), sowie auch permanent sein kann.
Ich hoffe, es ist aufgefallen, dass nirgendwo in dieser Beschreibung die Rede davon ist, dass Menschen mit Alexithymie keine Emotionen haben. Das liegt daran, dass sie sie haben. Sie wissen nur oft nicht welche Emotionen sie erleben.
WIE SICH ALEXITHYMIE ANFÜHLT
Die meiste Zeit befinde ich mich in meinem, wie ich es nenne, "neutralen Zustand". Das heißt, dass ich gerade keine großen, eindeutigen Emotionen erlebe und die kleinen Emotionen für mich zu diffus sind, um sie identifizieren zu können.
Selbst bei Emotionen die ich identifizieren kann, gelingt dies meist erst im Nachhinein. Nach sorgsamer Analyse der Situation und meines Körpers, verstehe ich manchmal "Ach, das habe ich da also gefühlt!".
Gefühlswörter haben wenig Bedeutung für mich. Einige habe ich gelernt und versuche, sie in mein Vokabular zu integrieren. Allerdings wurde mir immer nur von Anderen gesagt, dass bestimmte Dinge bestimmte Emotionen bedeuten. Ich weiß es nicht von mir aus.
Meist beschreibe ich wie ich mich fühle mit Adjektiven, die keine Emotionen beschreiben. So wie müde, hungrig, etwas schmerzt, schwindelig, erschöpft – alles, was damit zu tun hat, wie sich mein Körper sich anfühlt. Körperliches Empfinden ist meine Art zu wissen, wie ich mich fühle. Ich kann schlicht wenig Anderes greifen und es noch weniger Anderen erklären.
WARUM ALEXITHYMIE EIN PROBLEM SEIN KANN
Ich fühle alles intensiver, aufgrund meines Autismusses. Deshalb bekomme ich oft Overloads von Emotionen, die ich nicht verstehe, sowie von somatischen Reaktionen meines Körpers.
Emotionen bleiben häufig in meinem System stecken und behelligen mich eine sehr lange Zeit, ohne dass ich weiß, was nicht stimmt, oder was ich dagegen tun kann. Manchmal fühle ich mich körperlich wochenlang schlecht und denke, ich bin krank, ehe ich irgendwann verstehe, dass da etwas emotionales war, dass mich gestört hat.
Alexithymie mindert meine Fähigkeit, negative Emotionen zu bearbeiten und loszulassen. Sie mindert auch meine Fähigkeit, positive Emotionen zu erleben und in Erinnerung zu halten. Ich bin mir ziemlich sicher, dass das alle Dinge, die mit Emotionen zu tun hat schwierig macht, wie etwa ein gesundes Selbstwertgefühl zu entwickeln, Beziehungen aufzubauen, oder von Trauma zu heilen.
Emotionen sind für mich oft überladendes Chaos. Wenn ich emotional negativ geladenen Dingen ausgesetzt bin, leide ich. Die Konsequenzen können extrem und sehr schädlich für mich sein. Je nachdem, wie es mir geht, kann ich mich mit bestimmten Dingen auseinander setzenh, oder auch nicht.
Anderen erklären zu können, was wir fühlen, ist ausserdem ein großer Teil von Beziehungsbildung. Meine eigenen Emotionen nicht identifizieren oder beschreiben zu können, ist die eine Sache – das Gleiche auch mit den Gefühlen Anderer nicht zu können verursacht Probleme mit Empathie und macht Beziehungen schwierig.
Und letztendlich bin ich aufgrund von Alexithymie auch sehr gefährdet Opfer von Nötigung, Missbrauch, und Gaslighting (jemanden durch wiederholtes Bestehen auf Fehlinformationen an eigenem Wissen und Erinnerungen zweifeln lassen) zu werden.
Wenn ich nicht weiß, was ich fühle, besteht immer die Gefahr, dass Andere mich davon überzeugen können, dass ich Dinge fühle, die ich in Wirklichkeit gar nicht fühle. Darauf muss ich also aufpassen.
ANPASSUNGEN FÜR ALEXITHYMIE
Um Overloads und Meltdowns ausgelöst durch zu viele Emotionen, die ich nicht identifizieren und verarbeiten kann, zu vermeiden tue ich manchmal Dinge wie…
…nicht die Nachrichten gucken.
…keine schädlichen Videos auf Youtube anschauen.
…bestimmte Filme nicht gucken.
…mich nicht auf schädliche Ansichten einlassen, die mir begegnen.
…Artikel mit emotional geladenen Themen nicht lesen.
…soziale Medien nicht checken.
Manchmal benutze ich Gefühlsworte, obwohl ich nicht weiß, ob ich diese Emotion gerade wirklich fühle, weil es nicht immer möglich oder sicher für mich ist, zu erklären, dass ich Alexithymie habe und was es ist.
Über die Jahre habe gelernt, dass bestimmte körperliche Empfindungen bestimmte Emotionen indizieren. Und ich habe gelernt, dass in bestimmten Situationen bestimmte emotionale Reaktionen logisch sind. Also benutze ich manchmal die Gefühlsworte, von denen ich glaube, dass sie so korrekt wie möglich sind.
Die beste Anpassung von anderen Menschen wäre es, mich einfach nicht zu bitten, zu erklären, was ich fühle. Insbesondere dann nicht, wenn ich bereits erklärt habe, dass ich das nicht kann.
Wenn ich "Stop." sage – hör auf. Ausnahmslos.
Ich sage "Stop.", wenn ich mich am Rande eines Meltdowns befinde. Aufgrund von Alexithymie kann ich das meist nicht früh genug bemerken. Ich bemerke es erst dann, wenn die Emotionen bereits so groß und überwältigend sind, dass selbst ich die Dringlichkeit identifizieren kann, weil ich eine körperliche Reaktion bekomme.
Alexithymie ist niemandes Schuld. Sie macht einen auch nicht zu einem schlechten Menschen. Sie macht das Leben härter, also macht es ein wenig einfacher, in dem ihr gütig und akzeptierend seid.
WHAT ALEXITHYMIA IS
"How does that make you feel?"
If you don't have alexithymia you would likely answer with an adjective describing your current emotion. Guilty. Sentimental. Anxious. Helpless. Eager. Caring. Perplexed. There are so many. But somehow you would know exactly which one is the right one. Because you would know which emotion you are feeling.
If you do have alexithymia you would likely answer describing your physical state instead. Tired. My muscles are tense. Nauseated. My heart is beating so fast. I'm sweating. Or you would struggle to answer at all because you would know an emotional adjective is expected but you wouldn't know which one to give. Because you wouldn't know which emotion you are feeling.
That's alexithymia.
The term comes from the Greek words "a" meaning "not", "lexis" meaning "words", and "thymos" meaning "heart" or "emotions" so it means "No words for emotions".
People with alexithymia have difficulty identifying and describing their emotions. They often also have similar difficulties identifying the emotions of other people which can lead to problems with empathy.
It's important to note that while I am both autistic and alexithymic and alexithymia is common amongst autistic people both conditions don't necessarily have to co-occur. Not all autistic people have alexithymia. Not all alexithymics are autistic.
It's also important to note that alexithymia can be a temporary (for example through PTSD) as well as a permanent condition.
I hope you noticed that nowhere in this description is there any mention of people with alexithymia not having emotions. That's because they do. They just often don't know which emotions they experience.
WHAT ALEXITHYMIA FEELS LIKE
Most of the time I'm in what I call my "neutral state". This means I currently don't experience any huge, clear emotions like anger or fear and the little emotions are too small, too diffuse for me to identify so it just feels neutral.
Even for emotions, I can identify and describe this usually only comes after the fact. After careful analysis of the situation and of how my body felt I sometimes can understand "Oh that's what I felt then!".
Feeling words mean little to me. Some I learned and try to incorporate into my vocabulary. However, I was told that certain things indicate certain emotions from other people. I don't know most of it myself.
I mostly describe how I feel with non-emotion adjectives. Like tired, hungry, nauseated, in pain, dizzy, exhausted – anything related to how my body feels physically. Physical sensation is my way to know how I feel. I simply can't grasp much else let alone explain it to others.
WHY ALEXITHYMIA CAN BE A PROBLEM
I feel everything more intensely because of my autism. So I get a lot of overloads from emotions I don't understand, as well as from physical reactions of my body.
Often emotions get stuck in my system and bother me for a very long time without me knowing what's going on or what to do about it. Sometimes I feel physically horrible for weeks, thinking I got some kind of physical issue until I eventually realize that it's actually an emotional thing bothering me.
Alexithymia limits my ability to work through negative emotions and letting them go. It also limits my ability to experience positive emotions and holding on to them. I am fairly certain this makes all things involving emotions like having healthy self-esteem, building relationships, or recovering from trauma very difficult.
Emotions for me are often overloading chaos. When I get exposed to emotionally negatively charged things I suffer. The consequences can be severe and very harmful to me. Depending on how I am doing I can or cannot engage with certain things.
Being able to explain what we feel to other people is also a huge part of building relationships. Not being able to identify and describe my own emotions is one thing – not being able to do the same with other people's emotions causes difficulty with empathy which in turn makes relationships difficult.
And finally, alexithymia puts me at a huge risk of coercion, abuse, and gaslighting. If I don't know what I am feeling I am at great risk of being convinced by other people that I am feeling things I'm not actually feeling. So I always have to be mindful of this.
HOW TO ACCOMMODATE ALEXITHYMIA
To avoid overloads and meltdowns triggered by too many emotions that I can't identify and work through I might do things like…
…not watching the news.
…not watching harmful videos on youtube.
…not watching certain movies.
…not engaging with harmful views I come across.
…not reading articles with emotionally charged topics.
…not checking social media.
Sometimes I use emotion words even though I don't actually know if I am feeling that emotion because it's not always possible or safe for me to explain that I have alexithymia and what it is.
Over the years I have learned that certain physical sensations of my body indicate that I am feeling certain emotions. And I have learned that certain situations would logically cause certain emotional reactions. So sometimes I use the emotion words I believe to be the most correct.
The biggest accommodation by other people would be to simply not ask me to explain how I feel. Especially after I explained that I can't.
If I say "Stop." – stop. Period.
I say "Stop" when I am on the verge of a meltdown. Due to alexithymia I often can't sense this early enough. I can only sense it when the emotions have already become so big and overwhelming that even I can identify the urgency because I am getting a physical reaction.
Alexithymia is nobody's fault. It also doesn't make anyone a bad person. It makes life a lot harder, so make it a little easier by being kind and accepting.
---
19 REPLIES
CATEGORIES
SUPPORT AUTISTICTIC