MISOPHONIA – UNBEARABLE SOUNDS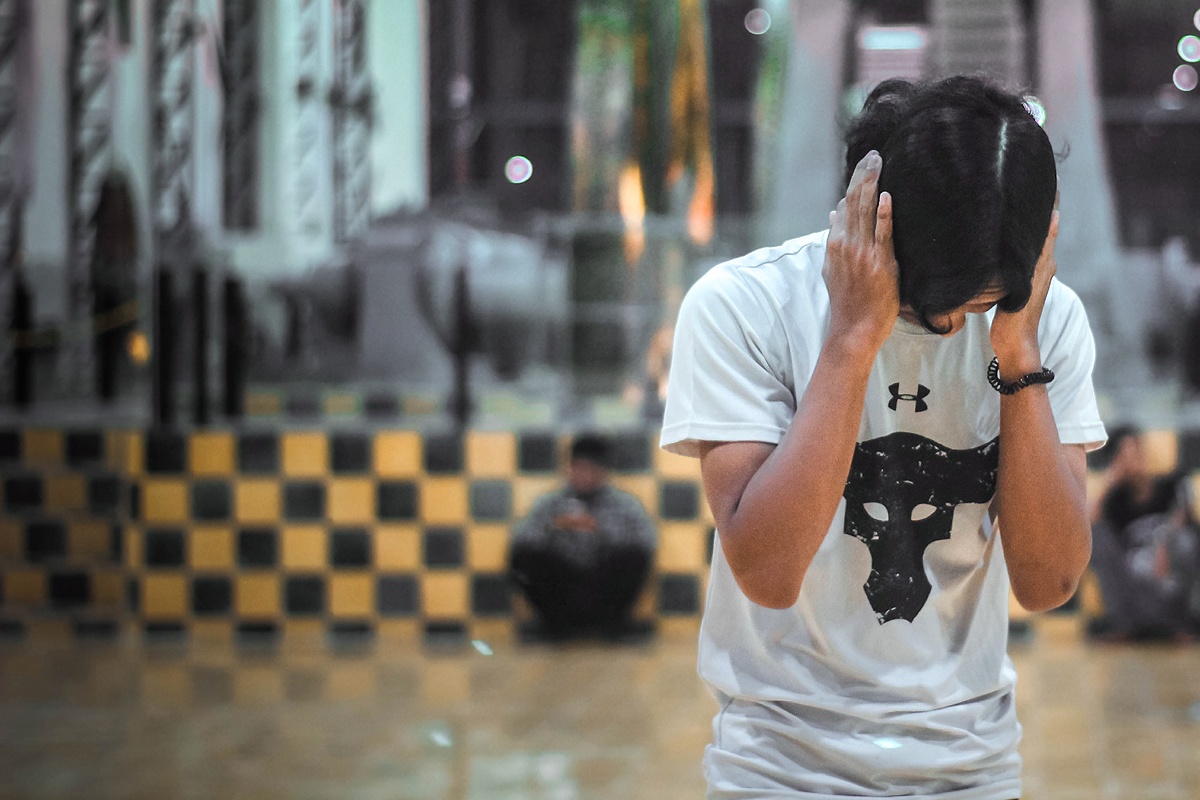 HIER KLICKEN FÜR DIE DEUTSCHE VERSION
MISOPHONIE – UNERTRÄGLICHE GERÄUSCHE
WAS MISOPHONIE IST
Der Begriff "Misophonie" kommt von den griechischen Wörtern "misos", was "Hass" bedeutet, und "phone", was "Geräusch" bedeutet. Wörtlich bedeutet er also "Hass auf Geräusche". Es ist eine Störung, die außergewöhnlich schwerwiegende emotionale oder körperliche Reationen auf bestimmte Geräusche auslöst.
Häufige Triggergeräusche für Misophonie sind Essen und Atmen, aber alle möglichen Geräusche können eine Reaktion auslösen. Insbesondere repetitive Geräusche sind häufig Misophonietrigger.
Einige mögliche Reaktionen sind Angst, Ekel, der Drang zu fliehen, und Wut. Eine Person mit Misophonie schreit eine Person, die ein schädliches Geräusch verursacht, vielleicht an, oder greift sie körperlich an, in dem Versuch, das Geräusch zu stoppen.
Menschen mit Misophonie haben häufig auch andere Schwierigkeiten mit der Reizverarbeitung.
Misophonie kann eine schwere Behinderung darstellen. Geräusche sind überall und je nachdem, welche Triggergeräusche eine Person hat, kann die ganze Welt ein schädlicher Ort werden.
Die Schwere, mit der Misophonie eine Person beeinträchtigt, kann im Laufe des Lebens jeder Person und sogar von Tag zu Tag variieren.
WAS MISOPHONIE VERURSACHT
Was genau Misophonie auslöst, ist noch nicht eindeutig bekannt. Man geht davon aus, dass die Zusammenarbeit verschiedener Hirnregionen nicht richtig funktioniert. Eine Schwierigkeit des Gehirns, automatisch wichtige und unwichtige Geräusche zu filtern, spielt wahrscheinlich ebenfalls eine Rolle bei Misophonie.
Meist entwickelt sich Misophonie recht plötzlich in den frühen Teenagerjahren und hält ein Leben lang an.
WIE SICH MISOPHONIE FÜR MICH ANFÜHLT
Misophonie ist ein Teil meines Lebens, seit ich 9 oder 10 Jahre alt war.
Ich sehe meinen Fall als moderat an, weil ich nicht viele Triggergeräusche habe, meine Reaktionen aber recht stark sind und ich sie nicht unterdrücken kann.
Meine schlimmsten Trigger sind Zähneknirschen und eine bestimmte feuchte Art des Kauens. Andere repetitive Geräusche können mich ebenfalls triggern – wie etwa Finger, die auf eine harte Oberfläche tippen.
Wenn ich Triggergeräusche höre, ziehen sich augenblicklich meine Brust und mein Magen zusammen. Ich fühle eine plötzliche Kältewelle. Meine Schultern ziehen sich nach oben, und alle meine Muskeln spannen sich an. Manchmal wird mir übel. Ich spüre den Drang, weg zu laufen. Es fühlt sich an, als ob das Innere meiner Brust sich aus meinem Körper heraus zieht.
Wenn es ganz schlimm ist, schreie ich vielleicht, oder muss mich selbst schlagen, um die intensive, unerträgliche, automatische Reaktion in meinem Körper zu unterbrechen.
Normalerweise platzt dann "Hör auf!" aus mir heraus. Nur die direktesten, dringendsten Wörter können sich in meinem Gehirn formen und artikuliert werden.
Mein Haupttrigger in den frühen Jahren meiner Misophonie, war das Kauen meines Vaters. Ich konnte es nicht ertragen, hatte täglich Ausbrüche am Tisch, habe ihn angeschrien, mit dem Kauen auf zu hören. Es war so überwältigend, dass ich angefangen habe, zu schreien und zu weinen, mir die Ohren zugehalten habe, und gegen den Drang weg zu laufen kämpfen musste. Ich hatte unzählige Meltdowns wegen diesem schrecklichen Geräusch. Und niemand hat mich ernst genommen – alle dachten, ich wäre nur unverschämt.
Meine Misophonie wird schlimmer, je schlechter es mir allgemein geht. Wenn ich müde oder krank bin, mich schon in der Reizüberflutung befinde, wird meine Misophonie deutlich mehr getriggert.
Falls jemand meiner Aufforderung, mit dem schädlichen Geräusch aufzuhören, nicht nachkommt, bekomme ich wahrscheinlich einen Meltdown. Manchmal bekomme ich auch dann einen Meltdown, wenn das Gräusch sofort wieder aufhört, weil schon wenige Sekunden ausreichen, um mein Gehirn in Chaos zu versetzen.
Meine automatischen Stims helfen mir dabei, mich zu erholen. Sie helfen mir auch während akuter Misophonieattacken. Händeschütteln, Schaukeln, Quietschen, sind definitiv Wege meines Körpers, die Spannung heraus zu lassen, die sich durch schädliche Geräusche aufbaut.
MENSCHEN MIT MISOPHONIE HELFEN
Es gibt verschiedene Ansätze, um Menschen mit Misophonie zu helfen:
– Geräuschtherapie beim Audiologen.
– Therapie, um Bewältigungsstrategien zu entwickeln.
– Ablenkende Geräusche via Kopfhörer oder Hörgerät anhören.
– Geräusche mit Gehörschutz abblocken
– Sichere Orte schaffen, an denen die Geräusche, die man hört, kontrolliert werden können.
– Foren, Organisationen, Selbsthilfegruppen, online und offline für Menschen mit Misophonie.
Verständnis, Akzeptanz, und Anpassung anderer Menschen sind ausschlaggebened, um Menschen mit Misohonie das Leben leichter zu machen.
Falls möglich, sei aufmerksam und rüchsichtsvoll mit den Geräuschen, die du machst.
Wenn jemand negativ auf etwas reagiert, dass du tust, oder dir sagt, dass du aufhören sollst – hör bitte auf, wenn möglich. Verlange auch nicht, dass höflich gefragt wird, weil das schlicht unmöglich sein kann.
Bitte verurteile Menschen mit Misophonie nicht für ihre Reaktionen auf Triggergeräusche. Diese sind unfreiwillig und können meist nicht kontrolliert werden.
Tun wir unser Bestes, um die Welt für Menschen mit Misophonie etwas zugänglicher zu machen.
WHAT MISOPHONIA IS
The term "misophonia" comes from the Greek words "misos" meaning "hatred", and "phone" meaning "sound". So it literally means "Hatred of Sound". It's a condition that causes unusually severe emotional or physical reactions to certain sounds.
Common trigger sounds for misophonia are eating and breathing but all kinds of sounds can cause a reaction. Repetitive sounds are especially common misophonia triggers.
Some possible reactions are anxiety, disgust, the urge to flee, and anger. A person with misophonia might yell at a person causing a harmful sound or attack them physically in an attempt to make the sound stop.
It's common for people with misophonia to also have other sensory processing difficulties.
Misophonia can be severely disabling. Sound is everywhere and depending on what a person's trigger sounds are the entire world can become a harmful place.
The severity with which misophonia affects a person can vary throughout a person's life and even on a day to day basis.
WHAT CAUSES MISOPHONIA
What exactly causes the condition is not yet fully understood. It's thought that different parts of the brain don't work together properly. A difficulty automatically filtering sounds into important and negligible likely also plays a role in misophonia.
Most people get misophonia pretty suddenly sometime in their early teenage years and it usually lasts for life.
WHAT MISOPHONIA FEELS LIKE FOR ME
Misophonia has been a part of my life since I was 9 or 10 years old.
I consider my case moderate because I don't have that many trigger sounds but my reactions are physical, rather strong, and I cannot suppress them.
My worst triggers are teeth grinding and a certain kind of moist chewing. Other repetitive sounds can also trigger me – like tapping fingers on a hard surface.
When I hear trigger sounds my chest and stomach tense up immediately. I feel a sudden rush of cold. My shoulders pull up, and all my muscles tighten. Sometimes I get nauseated. I feel the urge to run away. It feels like the inside of my chest is pulling itself out of my body.
If it's very bad I might scream or have to hit myself to interrupt the intense, unbearable, automatic physical reaction cycle going on in my body.
I usually burst out "Stop that!". Only the most direct, urgent words will form in my brain and be able to be articulated.
My number one trigger from my early misophonia years was my Dad's chewing. I couldn't cope with it, had daily outbursts at the table, yelling at him to stop chewing. It was so overwhelming that I started screaming and crying, covering my ears, fighting the urge to run away. I had countless meltdowns over this horrible sound. And nobody took me seriously – they all thought I was just being rude.
My misophonia gets worse the worse I am doing generally. When I am tired or sick, if I am already in sensory overload, my misophonia also gets triggered a lot more.
If someone doesn't comply with my request to stop the harmful sound I will probably get a meltdown. I might even get a meltdown if the sound stops right away because sometimes just hearing it for a second can be enough to send my brain into chaos.
My automatic stims help me to recover. They also help me to cope during acute misophonia attacks. Handshaking, rocking, squeaking are my body's way to help to release the tension built up by harmful sounds.
HELPING PEOPLE WITH MISOPHONIA
There are several approaches to help people with misophonia:
– Sound therapy done by audiologists.
– Counseling to develop coping strategies.
– Listening to distracting sounds via headphones or hearing aids.
– Blocking out sound for example with ear defenders.
– Creating safe spaces in which the sounds one hears can be controlled offer respite and time to recover.
– Forums, organizations, support groups online and offline for people with misophonia.
Understanding, acceptance, and accommodation by other people are crucial to make life easier for people with misophonia.
If you can, be conscious and considerate with the sounds you make.
If someone reacts negatively to something you do or tells you to stop – please stop if you can. Don't require them to ask nicely either because it might not be possible.
Please don't judge a misophonic person for their reactions to trigger sounds. They are involuntary and usually can't be controlled.
Let's do our best to make the world a little more accessible for people with misophonia!
---
CATEGORIES
SUPPORT AUTISTICTIC