"YOU DON'T LOOK AUTISTIC!" – AUTISM AND PHYSICAL APPEARANCE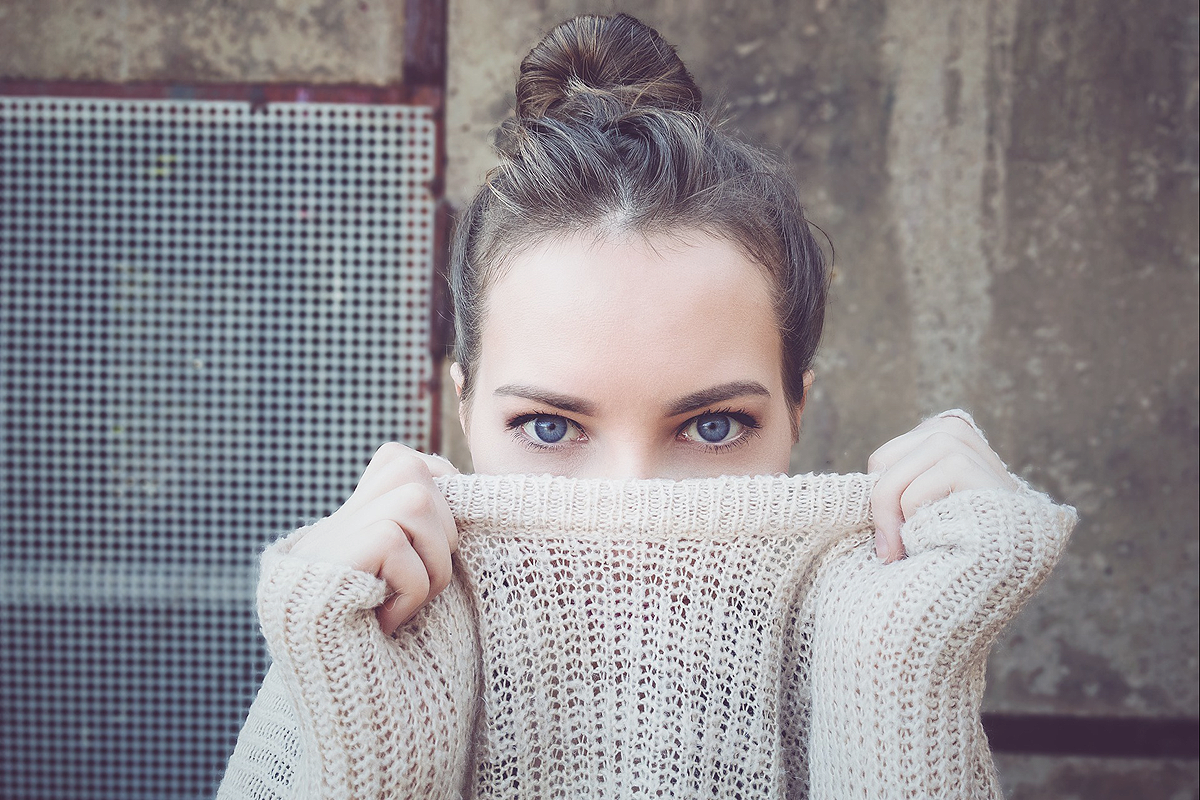 HIER KLICKEN FÜR DIE DEUTSCHE VERSION
"DU SIEHST GAR NICHT AUTISTISCH AUS!" – AUTISMUS UND KÖRPERLICHES ERSCHEINUNGSBILD
"DU SIEHST GAR NICHT AUTISTISCH AUS!"
Zahllose Autisten bekommen diesen Satz in ihrem Leben zu hören. Warum sagen Menschen das zu uns?
1. Menschen denken, es sei ein Kompliment, Autisten zu sagen, dass sie nicht autistisch aussehen. Weil autistisch zu sein als schlecht gilt, "normal" zu sein als besser gilt, und "normal" auszusehen deshalb als etwas Gutes gilt.
2. Menschen haben eine von Vorurteilen geprägte Idee davon, wie Autismus aussieht. Hauptsächlich basierend auf Dingen wie dem Film "Rainman". Jeder, der nicht so aussieht, wie sie denken dass Autismus aussieht, kann also in ihrem Glauben nicht autistisch sein.
Autisten stellen diese fehlgeleitete Aussage schon seit geraumer Zeit in Frage. Wir erzählen Menschen, dass Autismus nicht schlecht ist, dass MASKIEREN (autistische Verhaltensweisen zu unterdrücken, um nicht-autistisch zu erscheinen) tatsächlich extrem schädlich für uns ist, und man uns deshalb nicht dazu gratulieren sollte, nicht autistisch auszusehen.
Wir erzählen Menschen, dass Autisten Individuen sind und wir unser Autismus aussieht entsprechend auch individuell verschieden ist.
Heute möchte ich eine detailliertere Perspektive von Letzterem Anbieten.
UND OB ICH AUTISTISCH AUSSEHE
Zum Einen sehe ich autistisch aus, weil ich autistisch bin. Simpel, oder?
Aber mehr als das sehe ich autistisch aus, weil die Mehrheit meines körperlichen Erscheinungsbildes ein direktes Resultat meines Autismusses ist.
Was schlecht informierte Menschen als "autistisch aussehen" betrachten, läuft hauptsächlich auf sich sichtbar autistisch verhalten hinaus. Und während ich in der Öffentlichkeit stimme, Meltdowns habe, und oft sichtbar autistisch kommuniziere – alle drei Dinge sind nicht etwas, dass man immer an mir beobachten kann.
Aber es gibt immer Dinge an mir, die beobachtbar autistisch sind. Menschen wissen nur nicht, dass diese Dinge autistisch sind, weil sie nicht dem sehr engen "So sieht Autismus aus" Vorurteil entsprechen.
ICH BIN VON KOPF BIS FUSS SICHTBAR AUTISTISCH – WENN MAN WEISS, WONACH MAN SUCHEN MUSS
Nichtautisten wählen ihr körperliches Erscheinungsbild großteils danach, wie es sie aussehen lässt und wie es sie sich geistig und emotional fühlen lässt.
Während das sicherlich auch auf viele Autisten zutrifft, so wählen wir doch unser körperliches Erscheinungsbild großteils danach, wie es uns uns körperlich fühlen lässt. Und viele von uns legen mehr Wert darauf, wie unser körperliches Erscheinungsbild uns körperlich fühlen lässt, als alles Andere, einfach weil wir es müssen.
KOPF
Normalerweise trage ich…
…eine Mütze und Sonnenbrille, um mit Lichtüberempfindlichkeit zu helfen.
…einen Gehörschutz, um mit Geräuschhypersensibilität zu helfen.
…meine Haare rasiert, weil ich das Kitzeln von Haaren an Nacken, Ohren, und Gesicht nicht ertrage.
…kein Makeup, weil ich es nicht ertrage, wie es sich auf meiner Haut anfühlt.
…keine hängenden Ohrringe, weil ich das konstante Geräusch direkt neben meinen Ohren nicht ertrage.
BIS
Normalerweise trage ich…
…lange Hosen und Oberteile, um mit meiner Körperwahrnehmung zu helfen.
…eine vibrierende Armbanduhr, um mit meiner fehlenden Exekutivfunktion zu helfen.
…Materialien wie Baumwolle und Leinen, weil ich weiche Materialien nicht ertrage und die meiste Synthetik mich viel schwitzen lässt.
…keinen hängenden Schmuck, weil ich unerwartete, ungleichmäßige Berührungen nicht ertrage.
…Kleidung in Brauntönen, um mit meiner Farbhypersensibilität zu helfen.
…eine recht große Schultertasche mit mir, weil ich Wasser, Snacks, und einige Anpassungen für meine Reizverarbeitung immer dabei haben muss.
…keinen Nagellack, weil ich nicht ertrage, wie meine Finger sich damit anfühlen.
FUSS
Normalerweise trage ich…
…Schuhe, um mit meiner Körperwahrnehmung zu helfen.
…flache Schuhe, um mit meinem Gleichgewicht zu helfen.
…Socken in meinen Sandalen, weil ich das Gefühl von verschwitzter Haut in direktem Kontakt zu meinen Schuhen nicht ertrage.
Alles an meinem körperlichen Erscheinungsbild kann Menschen also etwas über meinen Autisamus erzählen, wenn sie hinter die Vorueteile gucken und Autismus besser verstehen.
So etwas wie das autistische Aussehen gibt es nicht.
---
Hier sind einige andere autistische Perspektiven zum Thema "Autistisch aussehen":
Chris Bonello at AUTISTIC NOT WEIRD
Katy Gough at ALEX LOWERY
Christina Gleason at WELL IN THIS HOUSE
"YOU DON'T LOOK AUTISTIC!"
Countless autistic people hear this sentence in their lifetime. Why do people say this to us?
1. People think it's a compliment to tell autistic people that they don't look autistic. Because being autistic is considered bad, being "normal" is better, and looking "normal" is thus a good thing.
2. People have stereotypical ideas of what autism looks like. Mostly based on things like the movie "Rainman". So anyone who doesn't look like what they believe autism looks like can't be autistic in their minds.
Autistic people have challenged this misguided statement for quite some time now. We tell people that being autistic isn't bad, MASKING (suppressing autistic behavior to appear non-autistic) is in fact very harmful to us, and thus you shouldn't compliment us on not looking autistic.
We tell people that autistic people are individuals and that thus how our autism looks is individual as well.
Today I want to offer a more nuanced perspective on the latter.
I DO IN FACT LOOK AUTISTIC
For one I look autistic because I am autistic. Simple, right?
But more than that I look autistic because most of my physical appearance actually is a direct result of my autism.
What misinformed people consider "looking autistic" pretty much comes down to acting visibly autistic. And while I do stim in public, have public meltdowns, and often communicate visibly autistically – all three aren't something you can always observe about me.
But there are always things about me that are observably autistic. People just don't know that these things are autistic because they don't fit the very narrow "This is what autism looks like" stereotype.
I'M VISIBLY AUTISTIC HEAD TO TOE – IF YOU KNOW WHAT TO LOOK FOR
Non-autistic people choose their physical appearance largely for the way it makes them look and the way it makes them feel mentally and emotionally.
While that is certainly also true for many autistic people, we choose our physical appearance based largely on the way it makes us feel physically. And many of us care more about the way our physical appearance makes us feel physically than everything else simply because we have to.
HEAD
I usually wear…
…a hat and sunglasses to help with light hypersensitivity.
…ear defenders to help with sound hypersensitivity.
…my hair shaved because I can't cope with the tingling of hair on my neck, ears, and face.
…no makeup because I can't cope with the way it feels on my skin.
…no dangling earrings because I can't cope with the constant sound right next to my ear.
TO
I usually wear…
…long pants and tops to help with my proprioception.
…a vibrating wrist watch to help with my Executive Dysfunction.
…materials like cotton and linen because I can't cope with soft materials and most synthetics make me sweat a lot.
…clothes in shades of brown to help with my color hypersensitivity.
…a relatively large shoulder bag because I need to have water, snacks, and some sensory accommodations with me whenever I leave the house.
…no dangling jewelry because I can't cope with unexpected, irregular touch.
…no nail polish because I can't cope with how it changes the way my fingers feel.
TOE
I usually wear…
…tight shoes to help with my proprioception.
…flat shoes to help with my balance.
…socks in my sandals because I can't stand the way sweaty skin in direct contact to my shoes feels.
So everything about my physical appearance can actually tell you things about my autism once you look beyond the stereotype and understand autism better!
There is no such thing as the autistic look.
---
Here are some more autistic perspectives on "looking autistic":
Chris Bonello at AUTISTIC NOT WEIRD
Katy Gough at ALEX LOWERY
Christina Gleason at WELL IN THIS HOUSE
---
CATEGORIES
SUPPORT AUTISTICTIC