COLOR HYPERSENSITIVITY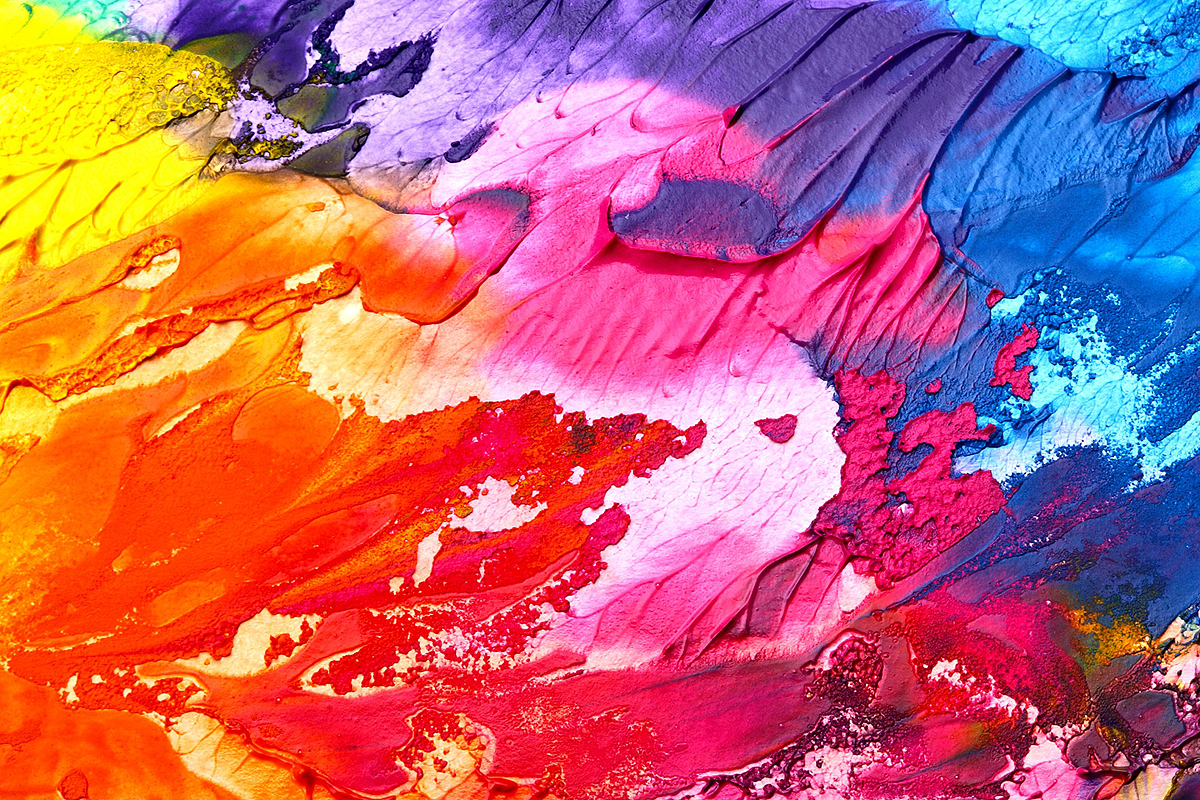 HIER KLICKEN FÜR DIE DEUTSCHE VERSION
FARBHYPERSENSIBILITÄT
WENN DIE WELT UNZUGÄNGLICH WIRD
Farbhypersensibilität ist etwas, über das selten, wenn überhaupt, gesprochen wird. Und doch ist es mit Leichtigkeit einer der am meisten behindernden Aspekte meines Autismusses. Andere Reizverarbeitungsprobleme kommen hinzu. Insbesondere visuelles Chaos. Aber selbst nach dem Entfernen anderer Reize bleibt auch Farbe allein ein Problem.
Wenn ich bunte Dinge sehe, werde ich überladen. Meine Augen werden angestrengt und schmerzen, meine Sicht wird verschwommen, ich bekomme Kopfschmerzen oder gar Migräne, mir wird schwindelig. Die Schwere dieser Symptome variiert, abhängig von einer Reihe an Faktoren. Aber ich kann bunte Dinge niemals einfach nur ansehen und mich daran erfreuen. Es ist immer mindestens eine erschöpfende Angelegenheit.
In der menschengemachten Welt sind Farben überall. Es scheint einen Drang zu geben, jedes bischen freien Platz zu bedecken. Ich kann mein Haus nicht verlassen, ohne angegriffen zu werden. Farben sind in der Kleidung von Menschen. Sie sind in jeder Ladenfassade und fangen wir mit dem Inneren von Geschäften gar nicht erst an. Autos sind farbig. Häuser sind farbig. Straßenkunst, Graffiti, Reklame überall. Farben die blinken, sich bewegen, sich verändern.
Selbst wenn man die Außenwelt vermeidet und sich nur online bewegt – überall Farben. Webseiten, Hintergründe, Logos, Videos, GIFs, Emojis, Fotos, es hört nie auf.
Ein Ort, an dem ich etwas Erleichterung finde, ist die Natur. Was wahrscheinlich ein Grund dafür ist, dass diese mich so gut erdet. Aber selbst in der Natur habe ich manchmal zu kämpfen – wer mag schon kein Feld voller wunderschöner blühender Blumen im Frühling, leuchtend blauen Himmel, und Sonnenschein, richtig? Hier, ich.
Ich kann die Schönheit in bestimmten farbigen Dingen durchaus sehen. Leider wird diese immer von dem Schaden überschattet, den sie bei mir anrichten.
WAS ICH BRAUCHE
---
WIE DIE WELT IST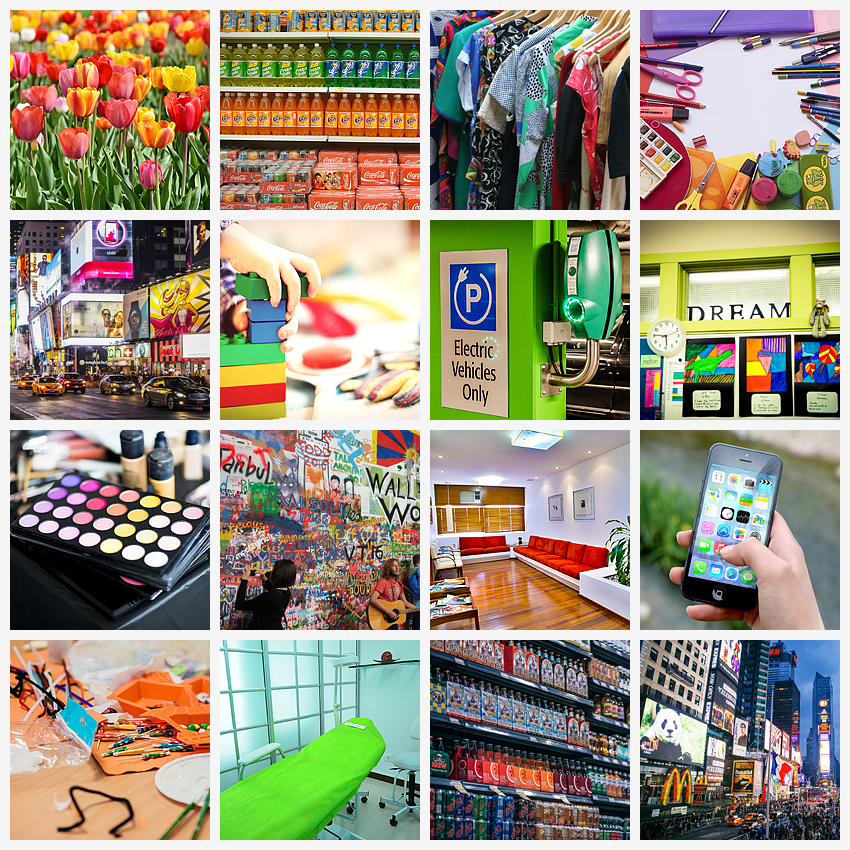 ---
DIE FORMALITÄTEN MEINER FARBHYPERSENSIBILITÄT
Abstufungen von Braun, Grau, Weiß, und Schwarz sind am Besten. Waldgrün ist auch in Ordnung. Die meisten Grüntöne sind immer noch besser, als alle anderen sonstigen Farben. Abstufungen von Rot (inklusive Pink) und neon Farben sind am Schlimmsten.
Von dem, was übrig bleibt, ist es besser, je gedämpfter, neutraler die Farbe ist. Je leuchtender und schroffer die Farbe, desto schwieriger.
Für Farbkombinationen gilt, je ähnlicher die Farben, desto besser. Je größer der Kontrast, desto schwieriger. Und je mehr verschiedene Farben, desto schlimmer.
Bei Mustern sind Streifen besonders schlimm. Alles, was in Reihen angelegt ist, ist schwieriger als Muster, die auf einfarbigem Hintergrund schweben.
Je mehr dieser Dinge kombiniert sind, desto schwieriger.
MEIN ZUHAUSE IST MEIN ZUFLUCHTSORT
Zu Hause kann ich viele der Farben kontrollieren, denen ich ausgesetzt bin.
Ich versuche, nur Kleidung in Braun-, Waldgrün-, und Grautönen zu kaufen. Unterhosen, BHs, Socken, T-Shirts, Pullover, Jacken, Handschuhe, Schals, Mützen, Schuhe, jedes einzelne Teil. Nichtbekleidungsteile ebenfalls. Taschen, Brille, Gehörschutz, Sonnenbrille.
Ich versuche, für unser Heim nur Stoffe in Braun-, Waldgrün-, und Grautönen zu kaufen. Bettwäsche, Vorhänge, Teppiche, Kissen, Stühle, Handtücher, Duschvorhang.
Ich versuche, so viele Dinge wie möglich aus ihrer Originalverpackung zu nehmen und mildere Alternativen zu nutzen. Ich benutze eine Bambuszahnbürste, weiße Zahnputztabletten in einem kleinen Einmachglas, ein weißes Stück Seife, und weißes Shampoo, das ich in eine Glasflasche umfülle.
Ich nähe beige Stoffvorhänge für unsere Regale, damit das Farbenchaos innen die meiste Zeit versteckt ist.
Wir haben weiße Wände und keine Poster oder Bilder aufgehängt.
Unsere Möbel sind aus Holz und nicht lackiert.
Ich mache viele Dinge selbst oder ändere sie ab, weil die käuflichen Versionen für meine Reizverarbeitung die Hölle sind.
Meine Onlinepräsenz ist ebenfalls ein sicherer Ort für mich. Die Farben, die ich hier wähle, sind für mich zugänglich (eine offensichtliche Ausnahme ist dieser Beitrag). So kann ich teilnehmen, ohne unnötig zu leiden.
Aber es gibt auch in meinem eigenen zu Hause Dinge, die ich nicht kontrollieren kann. Insbesondere Verpackungen. Firmen tendieren dazu, ihre Verpackungen grell farbig zu gestalten, um die Aufmerksamkeit der Kunden zu erhaschen. Natürlich schlägt das meist fehl, weil jeder seine Verpackungen grell farbig gestaltet. Und so ergibt sich lediglich für mich eine Welt voller grell farbiger Verpackungen. Vielen Dank auch.
VIEL EXTRA ZEIT UND ANSTRENGUNG
Ein Aspekt von Farbhypersensibilität ist, dass jedes Teil, das ich kaufe, extra Aufmerksamkeit benötigt.
Oft muss ich Dinge kaufen, die für mich schädlich sind, weil wir sie brauchen und eine zugängliche Version nicht erhältlich ist, ich sie aktuell nicht erforschen kann, oder wir sie uns nicht leisten können.
In Läden einzukaufen ist ein überladendes Erlebnis von Farben, Chaos, Licht, Geräuschen, Gerüchen, und Menschen. Meist finde ich nichts, was für mich funktionieren würde. Also kaufe ich meist online ein. Ich verbringe Stunden damit, mich durch überladende Produktbilder zu wühlen, um die Dinge zu finden, die für mich funktionieren.
FARBE IST EINE FRAGE DER BARRIEREFREIHEIT
Die meisten Menschen wissen gar nicht, dass Farbhypersensibilität existiert und das ist an sich schon ein Riesenproblem. Ich bekomme oft abwertende, schädliche Kommentare, wenn ich auf ein Problem mit Barrierefreiheit in Bezug auf Farben hinweise.
Ich verstehen, dass viele Menschen Farben lieben. Für die Meisten macht es Orte einladender, freundlicher, und das ist auch vollkommen legitim. Also vermeide ich die Welt so gut es geht. Es gibt aber Dinge, die ich nicht einfach vermeiden kann.
Insbesondere alles, was mit dem Gesundheitswesen zu tun hat. Arztpraxen, Krankenhäuser, und Therapie- oder Behandlungszentren jedweder Art. Barrierefreie Orte zu finden, an denen ich gesundheitlich versorgt werden kann, ist schwierig. Und wenn ich in einer schädlichen Umgebung sein muss, werde ich höchstwahrscheinlich körperlich darunter leiden.
Ein weiterer Punkt sind Umgebungen, die mit Bildung zu tun haben. Schulen, Klassenräume, Konferenzzentren, Kongressräume und so weiter und so fort. Dinge wie Bücher und Programme können ebenfalls ein großes Problem darstellen.
Und letztendlich, was mir sehr am Herzen liegt: alles, was mit Autismus zu tun hat. Veranstaltungen, Webseiten, Informationsmaterial, Treffpunkte, Fotos, Videos, Logos – überall Farben.
Ich liebe das Unendlichkeitssymbol als Symbol für Autismus – aber sobald es in Regenbogenfarben abgebildet wird, wird es für mich unzugänglich. Ich liebe eine Gegenkampagne zu "Light it up blue" – aber sobald es "Red instead" wird, wird es für mich unzugänglich. Ich liebe es, wenn Organisationen sich von schädlichen Symbolen wie Puzzleteilen trennen – aber sobald es stattdessen ein buntes Logo wird, wird es für mich unzugänglich.
Ich wünschte, ich könnte Farben einfach lieben. Aber das kann ich nicht. Vielleicht hilft dieser Beitrag Menschen dabei, zu verstehen. Es würde mir sehr viel bedeuten, wenn Menschen sich die Benutzung von Farben bewusster machten. Ganz besonders in offiziellen und fachlichen Zusammenhängen, die eigentlich barrierefrei sein sollten.
WHEN THE WORLD BECOMES INACCESSIBLE
Color hypersensitivity is something I rarely if ever see talked about. Yet it's easily one of the most disabling aspects of my autism for me. Other sensory processing problems do add to this. Especially visual clutter. But even with additional stimuli removed, color alone is an issue.
When I see colorful things I get overloaded. My eyes get strained and achy, my vision gets blurry, I get headaches, even migraines, I get dizzy. The severity of these symptoms varies depending on a variety of factors. But I can't ever look at colorful things and just enjoy it. It's always at the very least an exhausting experience.
In the man-made world, color is everywhere. There seems to be this need to cover up every free bit of space. I can't leave my home without being assaulted. Color is in people's clothes. It's in every storefront and don't even get me started on the inside of stores. Cars are colored. Houses are colored. Street art, graffiti, billboards everywhere. Colors that blink, move, change.
Even when avoiding the outside world and roaming online – colors everywhere. Websites, backgrounds, logos, videos, gifs, emojis, photos, it never ends.
One place that offers some relief is nature. Which is likely why it grounds me so well. But even in nature, I can struggle – who doesn't love a field full of beautiful blooming flowers in spring, bright blue sky, and some sunshine, right? Me, that's who.
I can see the beauty in certain colorful things. Sadly it's always overshadowed by the harm it causes me.
WHAT I NEED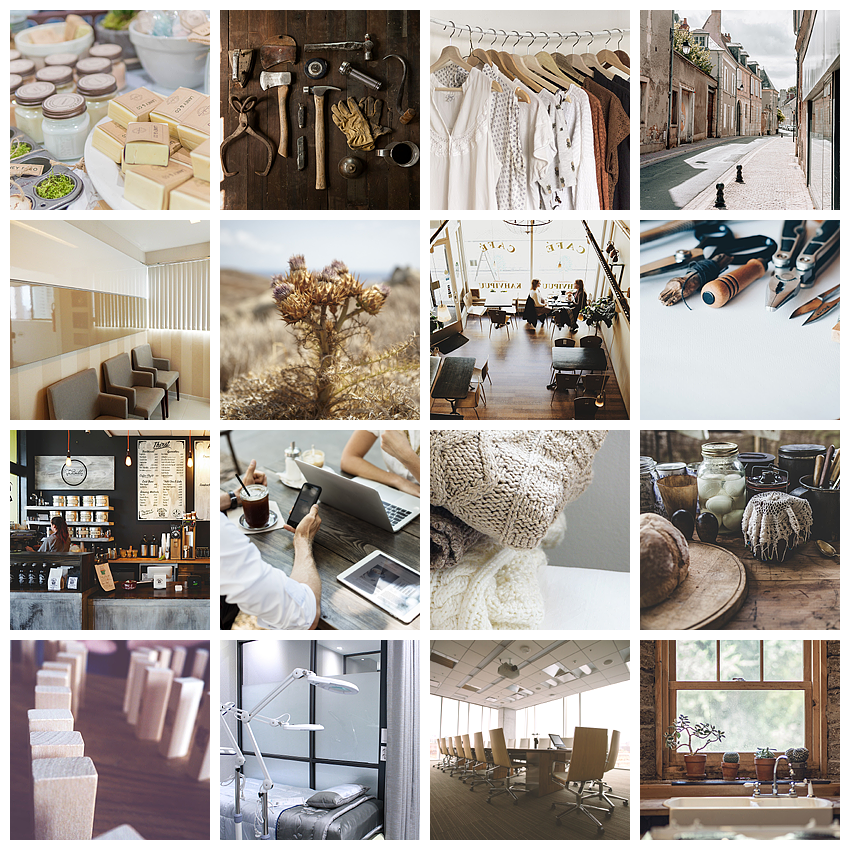 ---
WHAT THE WORLD IS LIKE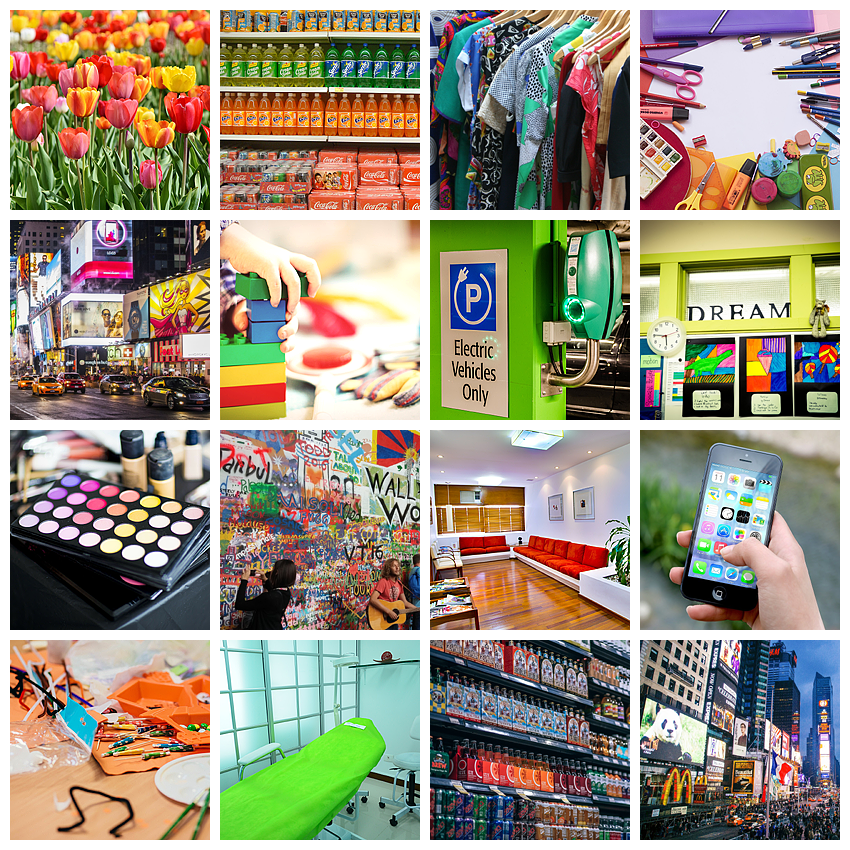 ---
THE TECHNICALITIES OF MY COLOR HYPERSENSITIVITY
Shades of brown, grey, white, and black are best. Forest greens are okay too. Most greens are still better than the other remaining colors. Shades of red (including pink) and neon colors are the worst.
Out of what's left, the darker or more muted and neutral the color the easier it is to cope. The brighter and bolder the color, the harder it gets.
For combinations of colors the more similar the colors the better. The higher the contrast, the harder it gets. Also the more different colors the harder it gets.
For patterns, stripes are especially bad. Anything in rows or columns is harder than floating patterns on a solid background.
The more of these bad things are combined, the harder it becomes for me to cope.
MY HOME IS MY SAFE SPACE
At home I can control a lot of the colors I get subjected to.
I try to only buy clothes in shades of brown, dark forest green, grey. Panties, bras, socks, T-shirts, sweaters, jackets, gloves, scarves, hats, shoes, every single item. Non-clothing items too. Bags, my glasses, ear defenders, sunglasses.
I try to only buy fabrics for our home in shades of brown, dark forest green, grey. Bedsheets, curtains, carpets, pillows, chairs, towels, shower curtains.
I try to take as many things as I can out of their original packaging and use milder alternatives. I use a wooden bamboo toothbrush, white tooth brushing tablets in a tiny mason jar, a white bar of soap, and white shampoo that I squeeze into a glass bottle.
I made beige fabric curtains to cover our shelves so that the colored chaos inside is hidden from view most of the time.
We have white walls and no pictures or posters up.
Our furniture is wooden and not painted.
I make or alter a lot of things myself because the store-bought versions are sensory hell.
My online presence is a safe space for me as well. The colors I choose here are accessible for me (with this post being an obvious exception). This allows me to participate without unnecessary harm.
But there are things I can't control even in my own home. Especially packaging. Companies tend to make their packaging bright and colorful in an attempt to grab buyers' attention. Of course, this usually fails completely because everyone makes their packaging bright and colorful. So I just end up in a world full of bright colorful packaging. Thanks a lot.
A LOT OF EXTRA TIME AND EFFORT
One aspect of color hypersensitivity is that every single thing I buy requires extra attention.
I often have to buy items that harm me because we need them and an accessible version isn't available, I'm unable to research at the time, or it isn't affordable.
Shopping in stores is one overloading experience of colors, chaos, light, sound, smell, and people. I also just usually can't find items that work for me anyways. So I shop mostly online. I spend hours wading through overloading images of products online to find the ones that work for me.
COLOR IS AN ACCESSIBILITY ISSUE
Most people aren't even aware that color hypersensitivity exists, and that is in itself a huge problem. I often get dismissive, harmful comments, if I point out the inaccessibility of something color related.
I understand that many people love color. For most, it makes places more inviting, friendlier, and that's perfectly valid. So I avoid the world as much as I can. However, there are things I can't simply avoid.
Especially anything related to health care like doctor's offices, hospitals, and therapy and treatment centers of any kind. Finding accessible places to get healthcare is difficult. And if I have to be in a harmful environment, I will likely suffer physical harm because of it.
Another thing is educational environments like schools, classrooms, conference venues, convention centers, and so on and so forth. Tools like books and software can also be a huge problem.
And finally, most dear to my heart: anything related to autism. Events, websites, educational material, venues, photos, videos, logos – colors everywhere.
I love the infinity symbol as a symbol for autism – but the second it's depicted in rainbow colors, it's inaccessible for me. I love a counter-campaign to "Light it up blue" – but the second it becomes "Red instead" it's inaccessible for me. I love when organizations get rid of harmful symbolism like puzzle pieces – but the second they replace it with a brightly colored logo it's inaccessible for me.
I do wish I could just enjoy color. But I can't. Maybe this can help people understand. It would mean so much to me if people could be mindful of how they use color. Especially in official and professional contexts meant to be accessible.
---
2 REPLIES
CATEGORIES
SUPPORT AUTISTICTIC